A tuition-free course for interpreters, informal educators, and science communicators interested in creating and nurturing regional communities of practice focused on improving climate science communication.
When: October 17–21, 2022
Where: NASA Goddard Space Flight Center (Greenbelt, MD)
Participant Webpage (Accepted participants only)
The Earth to Sky Academy is intended for teams of experienced informal educators and climate communication leaders who have a strong commitment to furthering climate literacy within their respective regions.
The purpose of the Academy is to train Regional Leaders who will conduct regional Earth to Sky (ETS) courses and nurture their own Earth to Sky Regional Community of Practice. Academy content is based on over 17 years of experience and extensive evaluation of the ETS model. Participants will be supported every step of the way, before, during, and after the course.
Academy Goals
Create a network of Earth to Sky Regional Leaders who will:
Catalyze, nurture, and sustain a regional community of practice of climate science communicators.
Develop and conduct effective ETS-style professional development events in their region.
Participate in the ETS Regional Leaders Network to further the mission of ETS.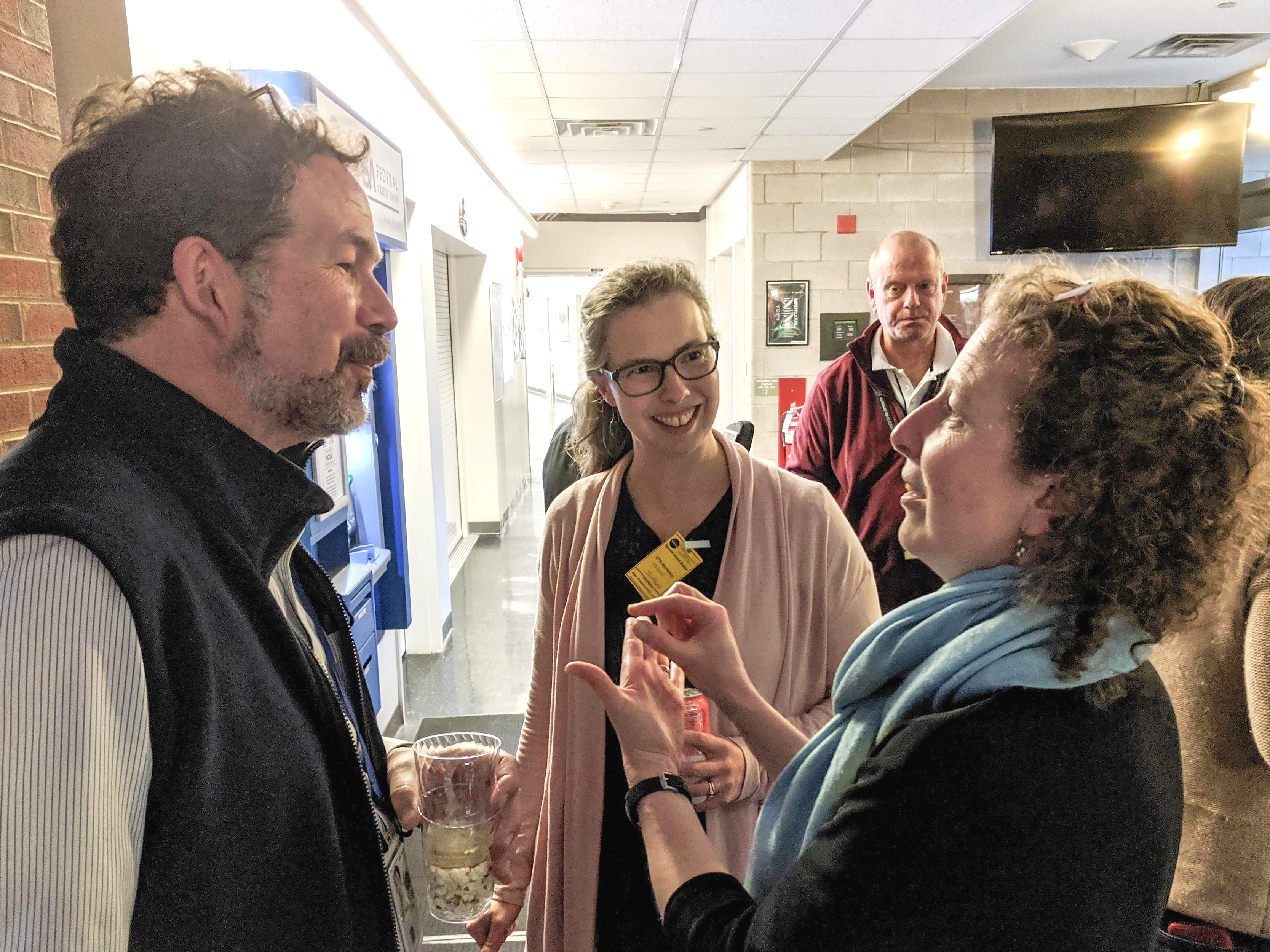 Participants at the 2019 Academy discuss with a NASA scientist after one of the sessions.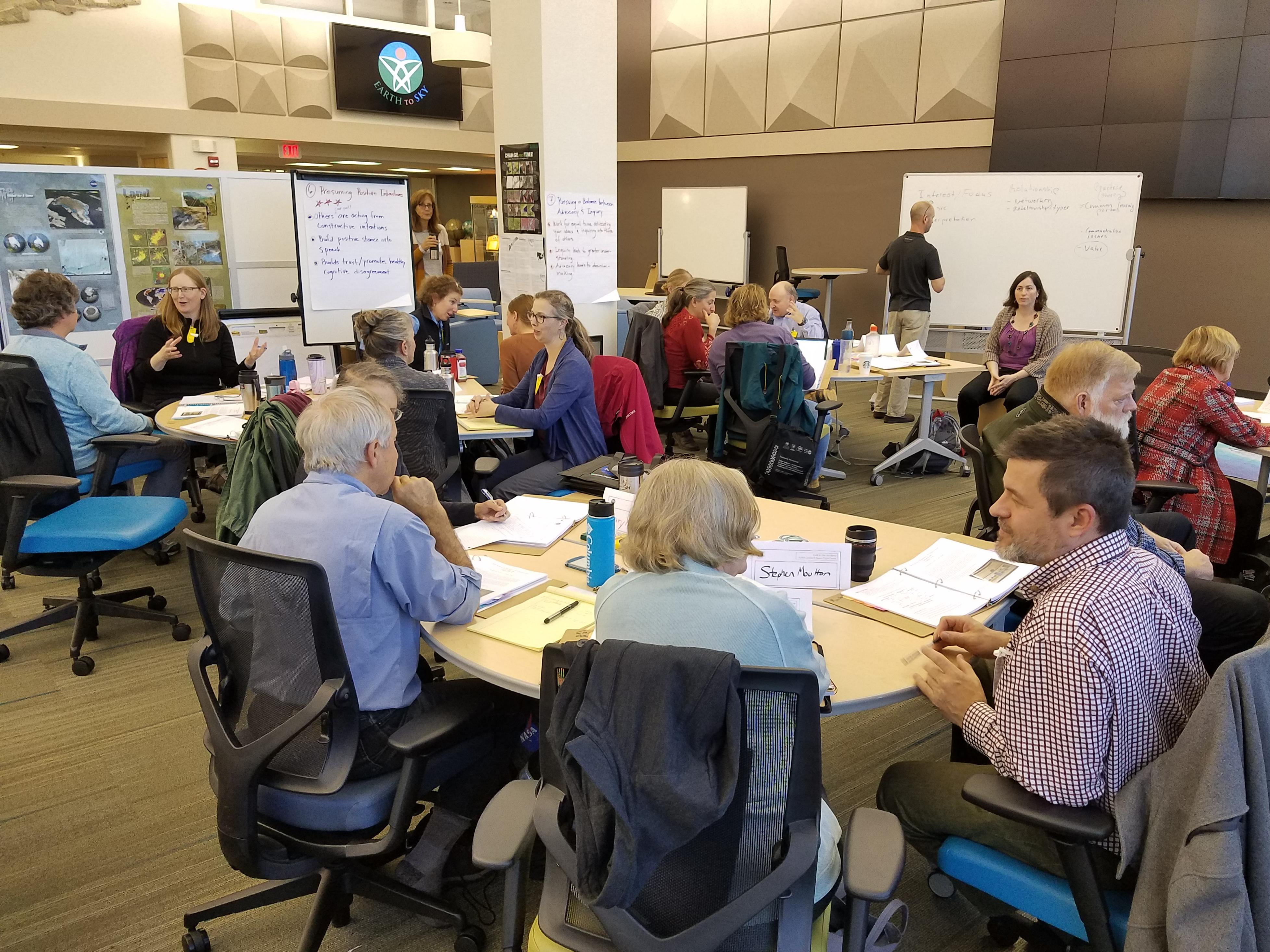 Academy participants work with their team members at NASA's Goddard Space Flight Center.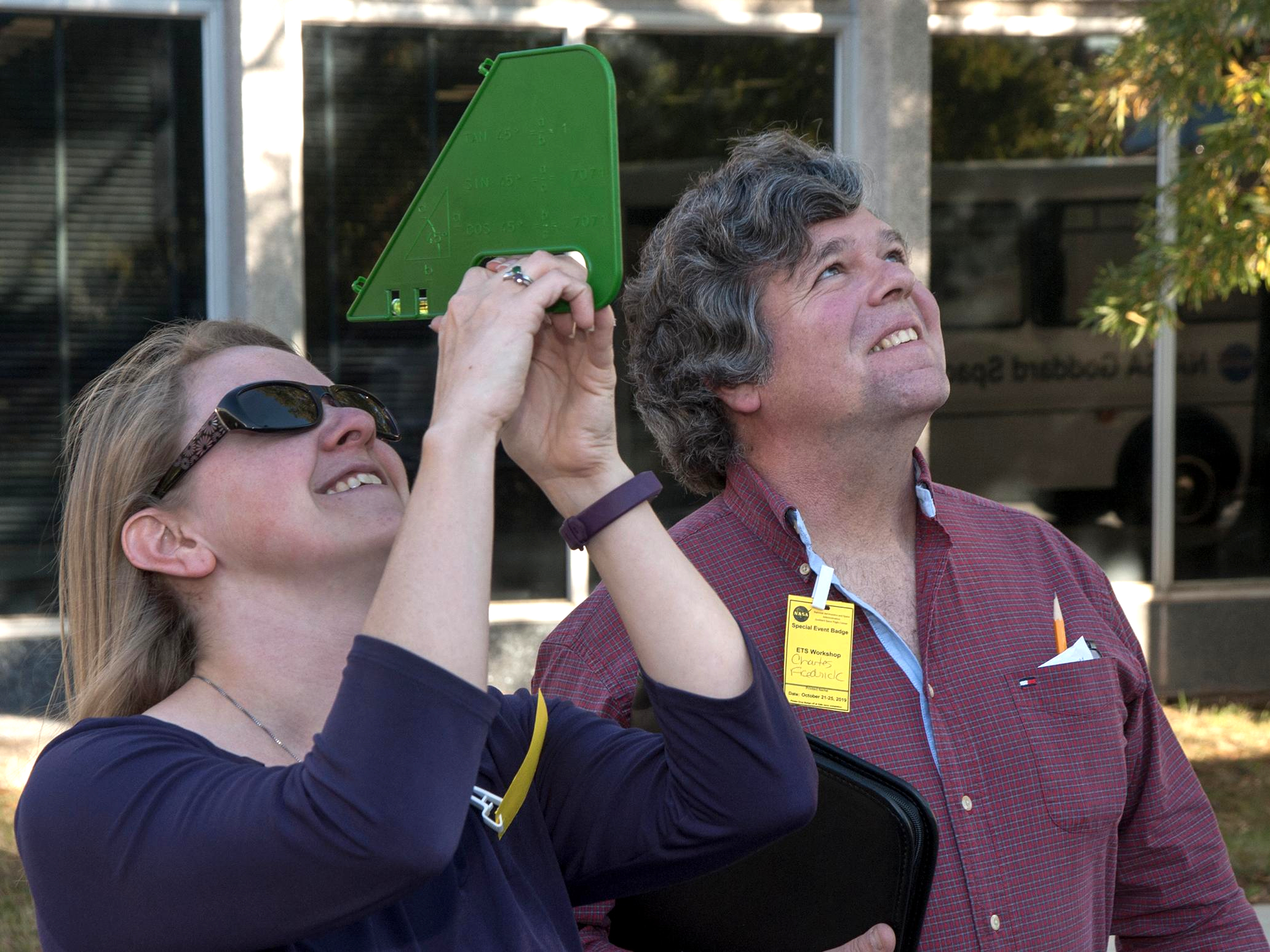 Participants become familiar with NASA educational tools, including GLOBE Observer.
How to Apply
Please read the full course announcement.
You must apply as a team of 3–5 collaborators. Note that your team must be made up of individuals from a variety of organizations/agencies.
At least one member of your team must have attended a previous Earth to Sky training event (workshop, course, or mini-course).
ETS Academy 2022 Course Announcement

ETS Academy 2022 Instructions and Application

Supervisor Support Letter
Learn more
Watch the recording of the informational webinar offered on February 28, 2022. Earth to Sky program lead Geneviève de Messières leads the webinar with Academy 2019 participant and ETS Coastal Alaska Regional Team Leader Laura Buchheit.
Read answers to questions addressed in this webinar and others:
COVID-19 Information
The Academy will be an in-person event; all team members are expected to attend in person. Earth to Sky will monitor the public health situation and conform to all NASA, federal, state, and local guidelines related to COVID-19. Teams accepted to attend the Academy will be notified of any changes, which could include rescheduling the Academy. In the event that a team is unable to attend due to COVID-19 or any other reason, an alternate team may be invited in their place.
Get Updates
We will send out relevant news and reminders through the Academy Interest mailing list (separate from our main Earth to Sky mailing list).
To gain full access to our extensive resources, the community directory, member map, and mailing list, join the Earth to Sky community! All are welcome to participate in monthly Earth to Sky events, including Climate Conversations and Climate in Your Pocket mini-webinars.
Reach Out!
Questions? Need help connecting with potential teammates in your region? Email Geneviève de Messières: This email address is being protected from spambots. You need JavaScript enabled to view it.