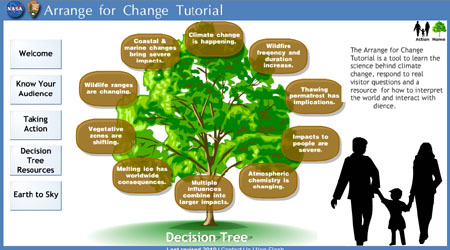 One of the biggest challenges faced by front-line communicators of climate change is how to organize and keep track of the overwhelming amount of information available from sources all over the planet. We developed this training tool to help bring key pieces of the most current climate science into a useful format that interpreters and educators could apply in their daily contacts.
Global climate change is incredibly complex. It's directly connected to almost every scientific discipline, it is often presented as controversial or political, and it affects every living being on the planet, today and into the future. This tutorial offers communicators a structure for keeping track of the information, and at the same time, arranging it so the larger theme and meanings regarding climate change are more accessible to their audiences.
The Decision Tree… is an analogy. The branches of the tree represent categories of climate change impacts (based on the findings of the Arctic Climate Impact Assessment, 2004). The leaves are analogous to specific questions being asked by audiences at our sites and classrooms. The trunk serves to remind us of the many influences that form the climate and of their combined effects. Finally, the tree as a whole, represents the global nature of climate change—a phenomena to acknowledge and represent as honestly and clearly as we can.
As you explore each of the branches, you will examine questions already being asked by users at our sites. You will identify the key theme about climate change associated with these questions and see examples for a range of possible responses. Interpreters know that in order to be prepared to help their audiences make true connections to meanings, they must have a broad range of responses available to meet their audience's needs and interests. Using cues to gauge the audience's interest, "Decision Points" occur where specific approaches or strategies can be chosen. Throughout the tutorial, we therefore offer Basic, in-depth, and Interpretive Responses that can guide the conversation toward a larger meaning about global change. These responses take advantage of interpretive techniques that can be used in a variety of settings and with diverse audiences. They are intended to serve as catalysts to inspire your own range of responses, which you'll develop as you make this information your own This tool is intended to get you started' the real fun begins when you start growing your own tree!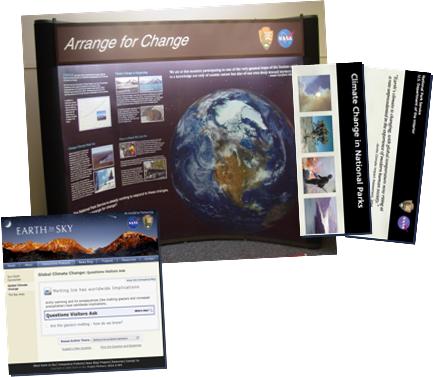 The Arrange for Change Decision Tree was designed as a training tool to prepare interpreters for informal conversations with their visitors. A traveling exhibit and interpretive brochure were also developed as accompanying components for this project. This tool prepares the interpreter to take the questions, the exhibit provides a catalyst for the dialogue to get started, and the brochure gives the audience a take-home reminder. If you're interested in hosting the traveling display, or if you'd like to receive copies of the "Climate Change in National Parks" brochure, contact us at the link at the bottom of this page.
We need to understand our changing climate well enough to be brokers for the science, to give context to the uncertainties, and to offer our audiences meaningful responses that inspire stewardship rather than despair. Although there are no easy answers for this complex societal issue, it is possible, and necessary, to have an informed dialogue about this critical issue and to raise awareness for its significance to our parks and for our culture.
Contact: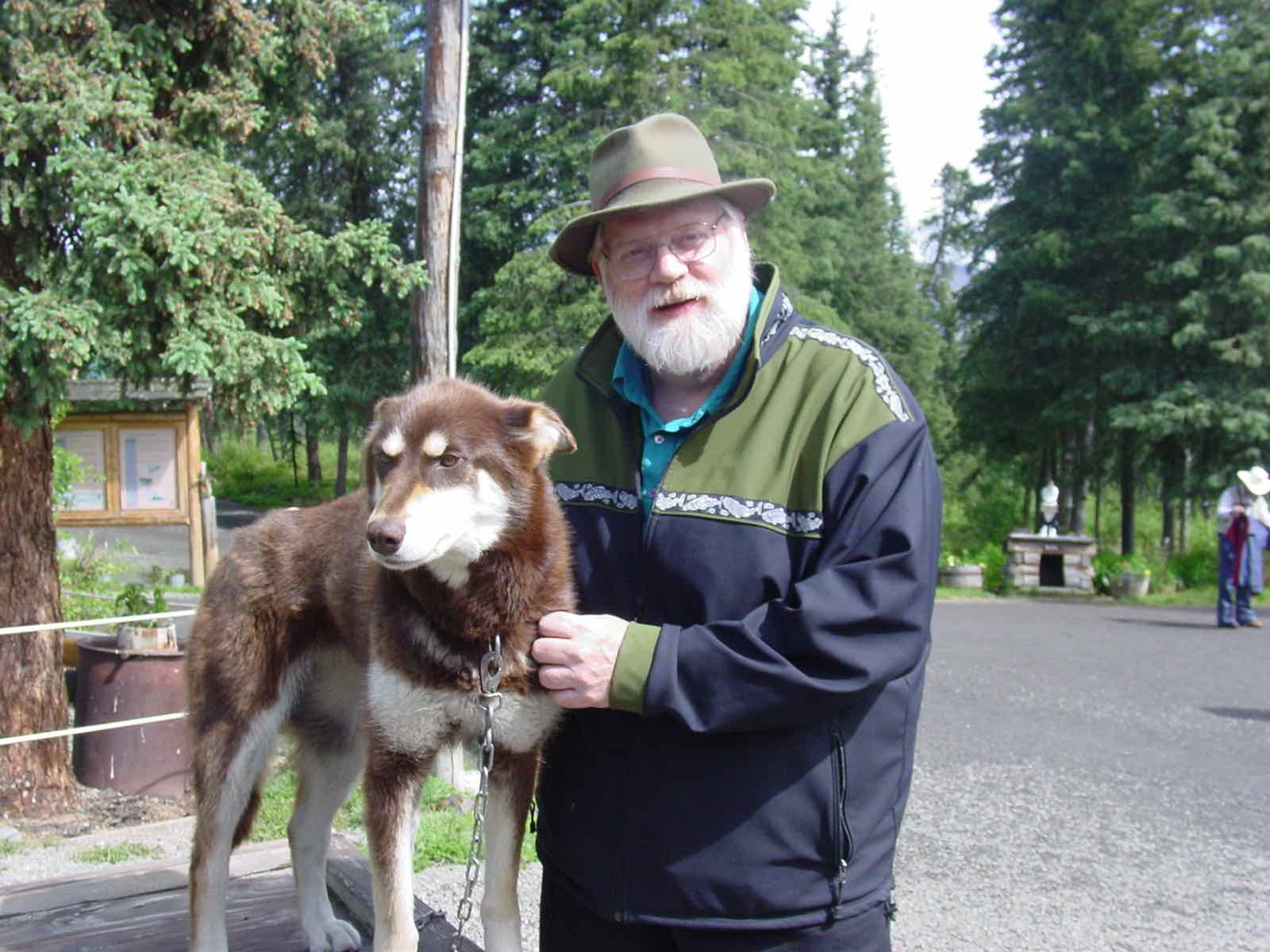 John Morris
NPS - Retired
Eagle River, Alaska
This email address is being protected from spambots. You need JavaScript enabled to view it.
For additional information on the Interpretive process: