Climate Cast Series
ETS Podcast Series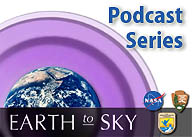 In response to the growing concerns about the effects of global climate change on our national treasures, a nationwide strategy of communication, mitigation and adaptation has been adopted. These Earth to Sky podcast series inform park and refuge visitors on the present and future affects of climate change on our public lands, and the measures being taken to mitigate and adapt to these effects.
The Climate Cast series focuses on a single park or wildlife refuge in each episode, explaining how climate change is impacting their resources. You may hear stories about the influence of climate change on a single species, such as the Florida panther or desert pupfish, or how it's changing entire ecosystems. You may also learn about the impacts to some of our most beloved cultural and historical sites, those places that help define who we are as a nation.
The Golden Gate Climate Update series provides interviews with leading scientific authorities, park staff and partners involved with climate change science, response and sustainability as it relates to National Parks.
It is our hope that these series will not only enlighten you to the challenges faced by the managers of our nation's protected areas, but inspire you to seek out ways that you can reduce your impact on and adapt to our changing climate in your own life.