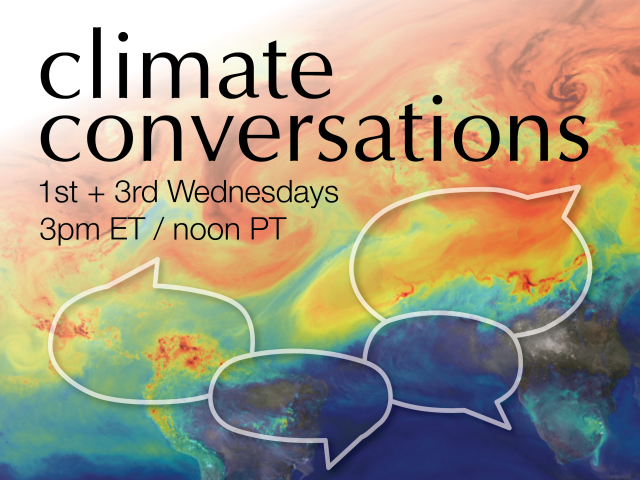 Upcoming Sessions
---
Wednesday, December 15, 2021
ETS Climate Conversations: Holiday edition! Join us for a light-hearted community gathering of games, quizzes, and raffle prizes.
Wednesday, January 4, 2022

Community conversation; topic TBA
Wednesday, January 19
GLOBE Observer Clouds Webinar: Clouds are a major component of the Earth's system that reflect, absorb, and scatter sunlight and infrared emissions from Earth. This affects how energy passes through the atmosphere. Learn about how GLOBE Observer Clouds app empowers citizen scientists to make observations to reveal change over time and help with the interpretation of satellite cloud data.
This ongoing series of informal online conversations is open to anyone with interest in discussing the intersection of current social issues and climate change.
In this series we are contemplating how we all can become more inclusive in climate communication, and seek to view our work from new and diverse perspectives. Our conversations have addressed the pandemic and its impacts, the influences of social and racial injustice and activism, and the implications of communicating about climate change during times of such universal uncertainty.
Sessions are held the first and third Wednesday of each month at 3:00 PM ET (noon PT). On first Wednesdays, we'll have a "Virtual Chat": a dialogue on a particular topic, with breakout groups so everyone will have a good chance to participate. Virtual Chats are not recorded. On third Wednesdays, we'll have a short presentation by an expert, followed by group discussion. These presentations will be archived in our library
Past Recorded Sessions
Logistics
We are using Webex. It works best to install and use the application version of the program on your computer, rather than to connect via the browser. The application takes a few minutes to download and install ahead of time.
Dial-in numbers will be available if you need phone access for audio; these lines are integrated with the platform and are not toll-free. Plan to use phone for audio if your internet bandwidth is problematic. The phone numbers and access codes will be sent to you automatically when you register using the link above.
We set up a half hour early to troubleshoot with those needing assistance. Feel free to join us early to check your computer and software configuration and to socialize.