Earth to Sky is developing Regional Communities of Practice in Climate Communication, each of which is led by Regional Leadership Teams trained and mentored by the partnership's Central Leadership. This is in support of our community's interest in a regional approach for climate communication. Our goals are to expand and deepen the impact of our partnership and strengthen our national community of practice.
A regional approach enables Earth to Sky to
Provide ETS climate training near to participants' workplace
Provide greater focus on locally relevant content
Give stronger support to the ETS community
Empower local climate leaders
Provide more frequent training across the country
Train more people
Regional Leadership Teams
Are trained and mentored by Earth to Sky Leadership
Conduct regional ETS courses in climate science and communication
Nurture and sustain their own regional communities of practice
Are supported by ETS Leadership and each other
---
The ETS Academy Trains Earth to Sky Regional Leaders
Regional Leadership Teams receive training at the Earth to Sky Academy, a tuition-free 5-day course held at NASA Goddard Space Flight Center. The content is based on over 15 years of experience and extensive evaluation of the ETS model. These teams then conduct regional Earth to Sky courses and nurture their regional community of practice of climate communicators. They also receive ongoing mentorship and support from the ETS Central Leadership and each other.
The first Academy was held October 21–25, 2019. Four teams attended and are now preparing and offering their regional courses.
Meet the first four Earth to Sky Regional Teams!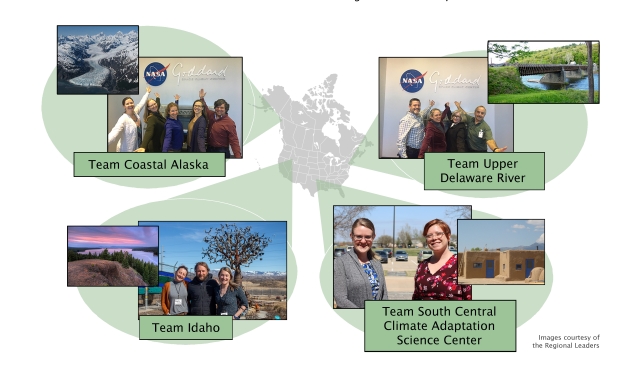 Team Coastal Alaska

Laura Buchheit (NPS), Rick Fritsch (NOAA), Jamie Hart (NPS), Laurie Lamm (USFS)
Supporting interpreters and informal educators in southeast and south-central Alaska

Team Idaho

Kayla Bordelon (University of Idaho), Jamie Esler (Couer d'Alene Schools), Augie Gabrielli (City of Boise), Jenny Wolf (City of Boise)
Supporting teachers and informal educators in Idaho

Team South Central CASC

April Taylor (Chickasaw Nation), Emma Kuster (Oklahoma University)
Supporting tribal educators and DOI staff in Oklahoma, New Mexico, Texas, and Louisiana

Team Upper Delaware River Watershed

Mary Anne Carletta (Emerita, Georgetown College, KY), Don Hamilton (NPS), Stephen Moulton (Himalayan Institute), Carol Roig (Sullivan County), Stephen Schwartz (Consultant)
Supporting informal educators, economic drivers, and policy-makers whose communities flank the Upper Delaware River in Pennsylvania and New York
Latest news: