Save the Date - ETS Regional Workshop July 15-17, 2020
The next Earth to Sky workshop will be held in Sulphur, Oklahoma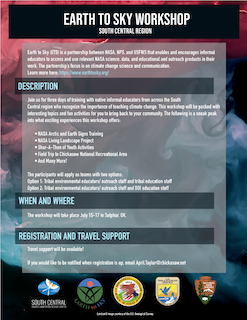 This workshop is the first to be led by a team of Earth to Sky Regional Leaders who graduated from the 2019 Earth to Sky Academy.
This team represents the South Central Climate Adaptation Science Center and serves tribal communities in partnership with others in Oklahoma, New Mexico, Texas, and Louisiana.
The workshop will feature climate change science and communication resources including citizen science, NASA resources, collaborative projects, and youth activities – all chosen for their specific relevance to practitioners in this geographic region. Scientists and communicators will join in a collegial learning environment, and participants will leave with a plan for using workshop content in their work environment.
Participants are encouraged to apply to the workshop as teams of:
Tribal environmental educators/outreach staff and tribal education staff
or
Tribal environmental educators/outreach staff and Department of Interior education staff
The formal announcement will be posted here and on the ETS Listserv this spring when applications open.
Meantime, please email This email address is being protected from spambots. You need JavaScript enabled to view it. with questions. Click on image to download the flyer