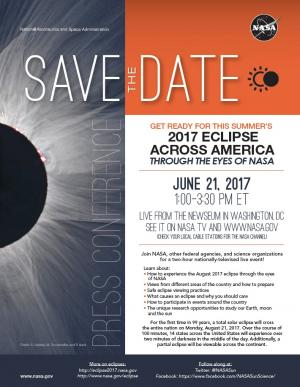 Save the date for this event being broadcast from the Newseum in D.C. 1:00- 3:30 PM ET
Join NASA, NPS and other agencies, plus science organizations for this live two-hour broadcast – see it on NASA TV and www.nasa.gov. (Check your local cable stations for the NASA Channel or watch it on line). This press conference will be chock full of information about the eclipse, and will serve as a kick-off for increased publicitiy about this wonderful celestial event.
Learn about:
How to experience the August 21 eclipse through the eyes of NASA
Views from different areas of the country and how to prepare
Safe eclipse viewing practices
What causes an eclipse and why you should care
How to participate in events across the country
The unique research opportunities to study our Earth, moon and the sun
Click on the poster to download and use it.