Archived Webinar Series: Interpreting the Total Solar Eclipse of 2017 !
For the first time in over a century a total solar eclipse will be visible over the entire United States, August 21, 2017. This spectacular total solar eclipse will be visible within a 70-mile wide path stretching across the continental U.S. beginning in mid-morning on the Oregon coast, crossing the United States, and finally disappearing on the South Carolina coast by mid-afternoon.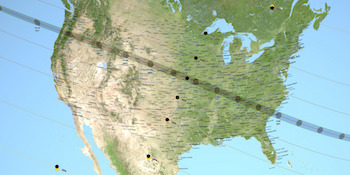 click for larger (high resolution) Those in the path of totality will have the rare opportunity to safely see the Sun's corona, the beauty of Baily's beads and the dazzling diamond ring effect. You can get a sense of how the eclipse will progress at your location at http://bit.ly/2ffhTdi
This eclipse will be a unique and powerful opportunity for sharing the excitement of science and the wonder of the Sun and Moon as they create a total solar eclipse on Earth.
The webinar series covers basics about solar eclipses, touches on NASA's research on the Sun, Moon and the Sun-Earth connection, and explores activities, resources and ideas for connecting the eclipse experience with major interpretive themes in parks, refuges and other interpretive sites.
You may view any or all of the sessions which were held January - March 2017.
Tuesday, January 24 – Basics of Solar Eclipses
Thursday, February 2 – Our Sun is an Above-Average Dynamic Star!
Tuesday, February 14 – Without the Moon There Would Be No Eclipse!
Thursday, February 23 – Earthly Connections to the Sun
Tuesday, March 7 – NASA Resources and Activities Part I
Thursday March 16 – NASA Resources and Activities Part II
Thursday March 23 – Interpret the Eclipse!
Webinar abstracts and access to archived sessions and resources are here (site login required).