Free Climate Science and Communication Mini-Course!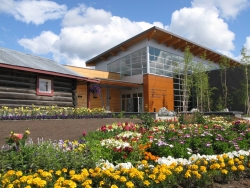 What's currently going on with climate change in Alaska, and how do we best engage audiences on climate issues? If you've been wondering about these and similar questions, save-the-date October 21st, and join the Earth to Sky interagency partnership for an in-person mini-course in Fairbanks, with our partners from NASA, National Park Service, and many other agencies and organizations. Join us!
Meet with world-class scientists and communicators and explore the best practices and latest insights into understanding/responding to changing climate
Hear about the latest research being conducted by the NASA Arctic Boreal and Vulnerability Experiment (ABoVE) Campaign in Canada and Alaska
Learn tips on climate communication from experienced Earth to Sky alumni
Explore new tools, including citizen science activities and stunning visual resources from NASA
Discover useful online resources to help develop your understanding of and ability to communicate about climate
Become part of a statewide community of engaged educators, working on the best ways to communicate about climate with audiences, both on-site and virtually
Outline your own customized plan for presenting a climate program or designing a product for use at your work site
And best of all, learn how to stay connected to these scientists and communicators over time. You're not alone in your efforts - and here's proof there's lots of help available!
Target Audience: Federal, State, Municipal, Non-profit and private organization communicators, school educators, and anyone interested in climate literacy. Participation by partners and collaborators is especially encouraged.
What: ETS@AK Mini-course 2016
When: Friday, October 21st, 2016
Where: Fairbanks, Alaska - at the Morris Thompson Cultural and Visitors Center
No Tuition Fee
Full Course Announcement:
ETS-AK_2016_Minicourse-Announcement.pdf
Application form:
ETS-Mini-course-AK-Application-2016.doc
For more info or to add your name to our email list of those interested, Contact:
John Morris Earth to Sky - Alaska Coordinator
16542 Marcus Street
Eagle River, AK 99577
This email address is being protected from spambots. You need JavaScript enabled to view it.
907-947-0359
or
Anita Davis
Lead, Earth to Sky Interagency Partnership
Science Systems and Applications, Inc.
NASA Goddard Space Flight Center
This email address is being protected from spambots. You need JavaScript enabled to view it.
Office: (301) 614-6669 or (410) 480-0718