Earth to Sky Climate Change Science and Communication - A Regional Approach
October 14-16, 2015
This course focused on climate science and communication as it applies to Alaska. The heart of the course was comprised of three days of face-to-face sessions held at the Bureau of Land Management's Campbell Creek Science Center in Anchorage, AK. It also featured one evening session, and a field trip to Portage Valley as a case study for climate change effects and communication practices.
The course preparatory assignments, video-taped presentations and all course materials are available on the course home page. We plan to conduct additional regional courses in a variety of locations in coming months and years.
Target Audience:
Federal, State, Municipal agency, as well as non-profit and private organization science communicators, interpreters, environmental educators and education specialists. Participants should have some experience with communication principles and techniques. Knowledge of climate science is not required. Partners and collaborators are especially encouraged.
Participants in this course: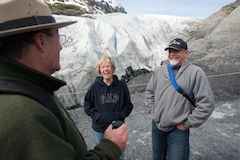 Met with world-class scientists and communicators to discuss their best practices and the latest insights about understanding and responding to changing climate.
Heard about the latest research in carbon and energy systems, specific to Alaska; learned the latest about NASA's 9-year ABoVE campaign from the scientists themselves.
Joined interactive sessions with specialists on many climate topics, including thawing permafrost, changes in hydrology, and new wildlife dynamics.
Experienced climate research first-hand on a field-trip to Portage Glacier where researchers engaged directly with workshop participants.
Became part of an engaged community of interpreters and educators, statewide, who are working on communicating about climate to audiences on-site, in communities, and virtually.
Walked away with a customized plan for developing a climate program or product which, with partners, will be used at their sites with their audiences.
And they learned how to stay connected to these scientists and communicators over the long term.