The Earth to Sky Academy is intended for experienced interpreters, informal educators, and science communication leaders who have a strong commitment to furthering place-based climate literacy within their respective regions.
The purpose is to train teams of regional leaders who will conduct regional Earth to Sky climate communication courses for interpreters, informal educators, and other target audiences, and nurture their own Earth to Sky regional community of practice. The Academy is a tuition-free five-day course held at NASA Goddard Space Flight Center. The content is based on over 17 years of experience and extensive evaluation of the Earth to Sky model. Participants are supported every step of the way, before, during, and after the Academy.
Four regional teams were trained at the first Academy in 2019. Five teams were trained at the second Academy in 2022. The third Academy will be announced in 2023.
Learn more about Earth to Sky Regions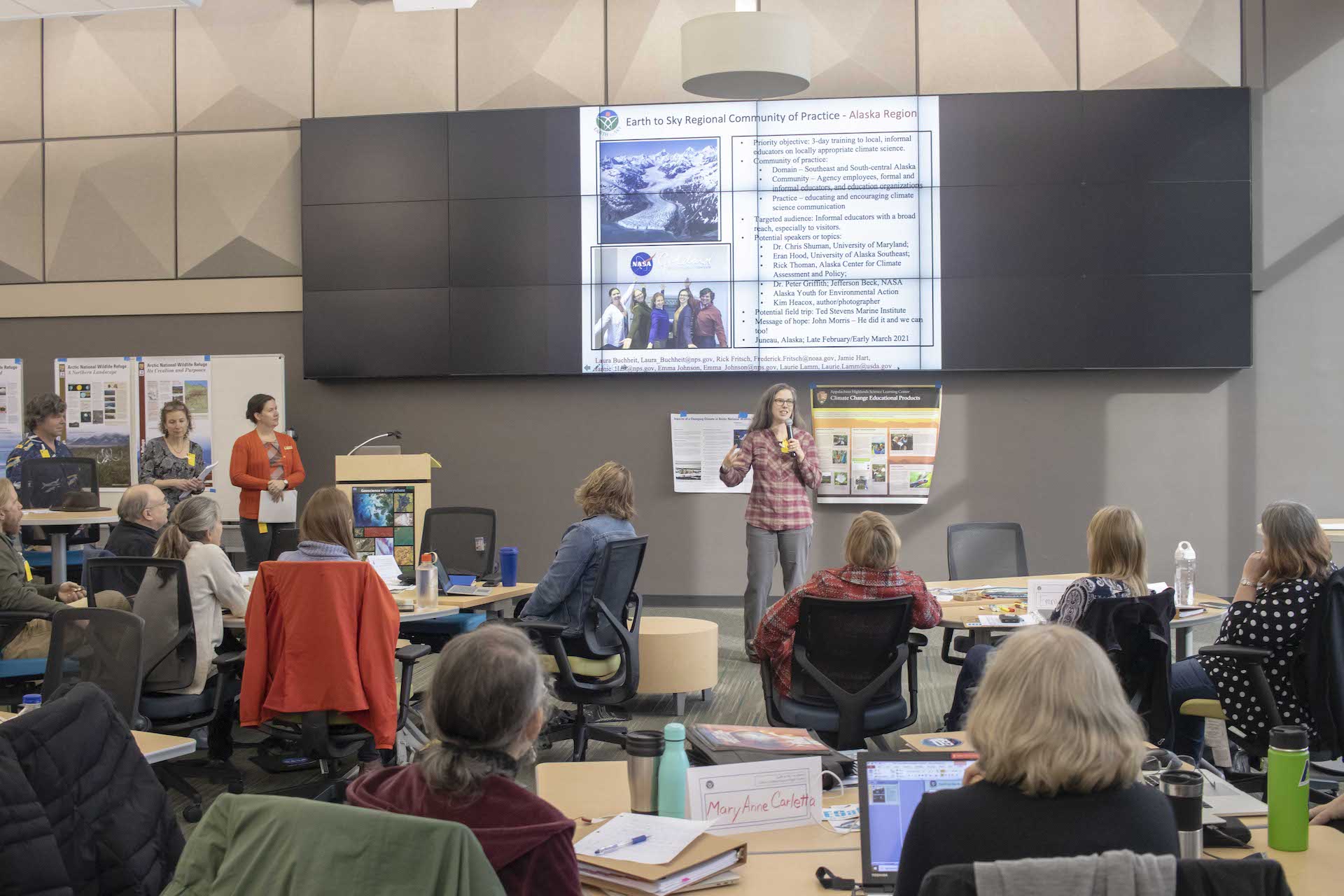 Emma Johnson reports out to her fellow Academy 2019 cohort about her team's plans for their region.
Participants apply as teams of 3–5 collaborators who have self-selected the geographic extent and primary audience for their region. Each team reflects a breadth of expertise drawn from a variety of agencies and organizations, and includes at least one alum of a previous Earth to Sky training event.
The goals of the Academy are to create a network of Earth to Sky regional leaders who will:
Catalyze, nurture, and sustain their regional community of practice of climate science communicators
Develop and conduct effective Earth to Sky professional development events in their region
Participate in the regional leaders' network to further the mission of Earth to Sky.
The collegial workshop environment offers many opportunities to engage with NASA scientists and communication specialists.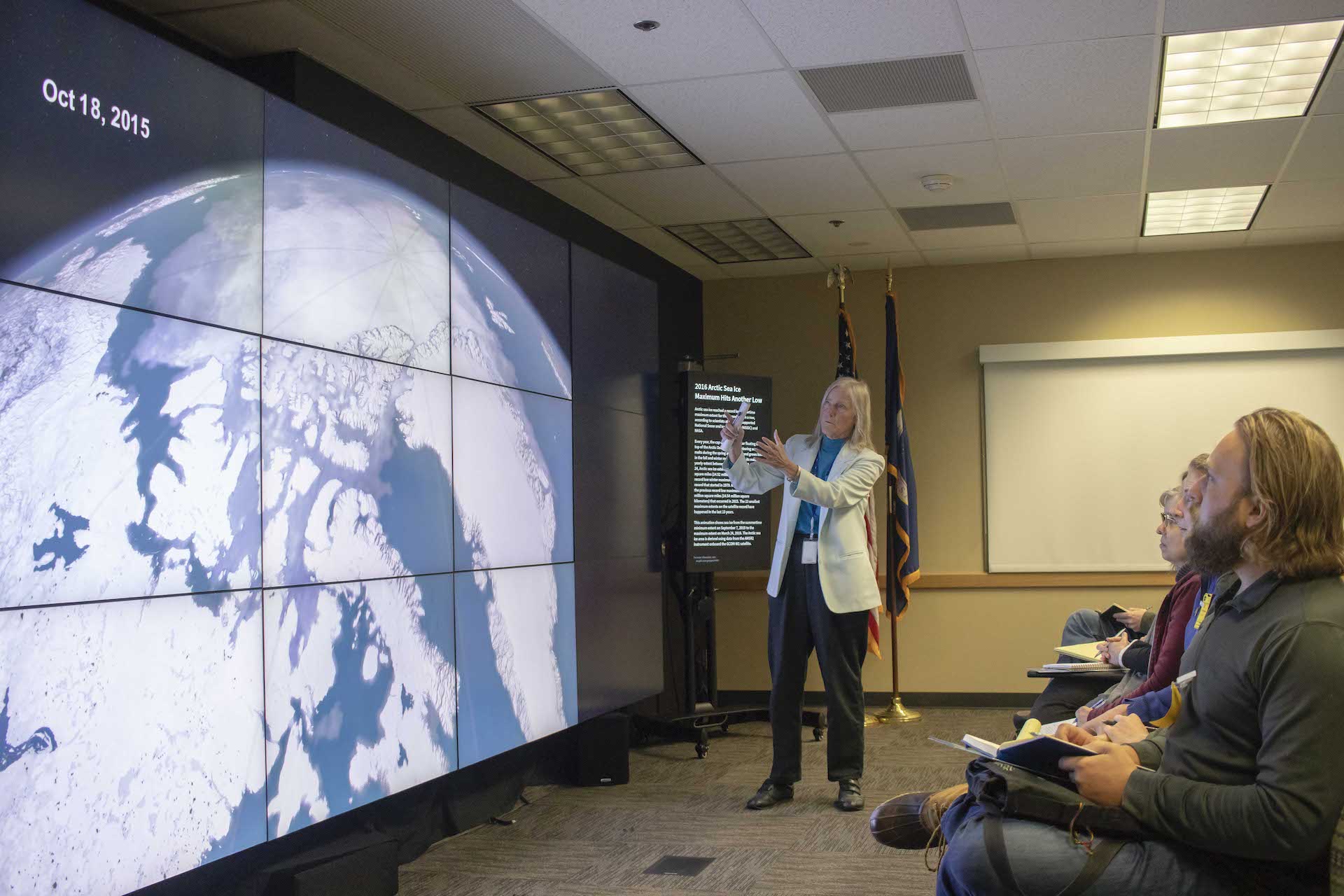 Dr. Claire Parkinson describes some of her research on our planet's changing ice to the Earth to Sky Academy class of 2019 using Goddard Scientific Visualization Studio imagery projected on the NASA hyperwall.
Academy topics include:
Basic principles of effective adult education methodology.
Best practices in professional development reflected in the Earth to Sky training methodology.
Foundational climate science, including an introduction to Earth System Science as a contextual framework for climate science.
Tips on how to access NASA science, educational content, and expertise.
Regional leaders receive ongoing support from national Earth to Sky leadership throughout their training process and for as long as they continue to work on behalf of their regions. During the Academy, participants receive an Earth to Sky Regional Course Guidebook that outlines methodology and provides lesson plans, templates, and a detailed planning timeline for running an Earth to Sky course. Work time is provided for teams to confer with each other and national leadership as they begin developing plans for their own courses and nurturing their regional community of practice. The course is followed by ongoing professional development, mentoring and other support for the regional leaders.
Read answers to frequently asked questions about the Academy and the role of Earth to Sky regional leaders:
Read more:
To receive updates and details about future Earth to Sky Academies, send an email to This email address is being protected from spambots. You need JavaScript enabled to view it. with the word "join" in the subject line.