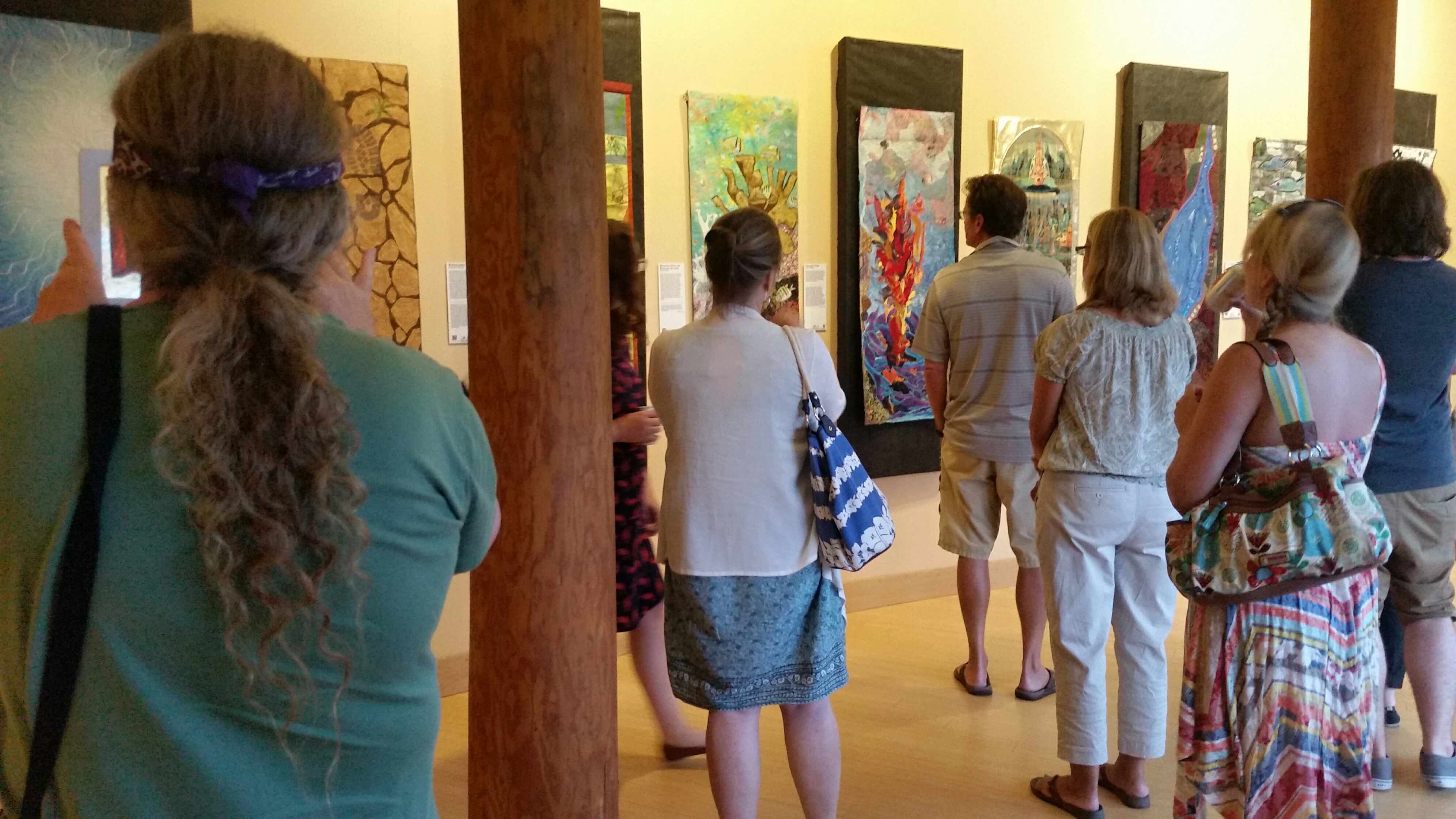 Here's a unique product from one of our long-term Earth to Sky Alum's, Gary Bremen. After nearly two years of planning and legwork, Biscayne National Park and Studio Art Quilt Associates (SAQA) have debuted "Piecing Together a Changing Planet," a traveling exhibition of 26 art quilts interpreting climate change and other anthropogenic impacts on America's national parks. The show has finished its first run of 10 venues, which was the commitment of locations originally planned for inclusion. It survived the Gatlinburg fires last December, adding an additional, climate-change-related wrinkle, and opened for a South Florida encore at the University of Miami back in March (where it was paired with exhibits on research by UM faculty, students and alumni). The City of Sequim, Washington is paying for a final show this summer, through the end of June, before the show is dismantled, and its sold pieces go to their new homes. The show has been seen by more than a quarter million visitors at the 10 venues, plus lots of great newspaper stories, magazine articles, and other media.
A Traveling Exhibition of 26 Art Quilts interpreting Climate Change and other Anthropogenic Impacts on America's National Parks
The artworks were all created by members of SAQA, a 3000-member national organization dedicated to promoting the art quilt through education, exhibitions, professional development, documentation, and publications. Far from utilitarian quilts traditionally used as bedcoverings, art quilts focus on aspects not only of stitching and piecing, but also of layering, "thread-painting" and graphic design. The resultant pieces are often literally and figuratively three-dimensional: showy pink ladyslipper orchids (among the many wildflowers whose bloom times are impacted by climate change) pop off the forested background, putting the viewer IN Great Smoky Mountains National Park; icy glaciers melt down into an ocean of bleached coral heads, tying two drastically different impacts of climate change together in one compelling piece; blocks of dry, cracked earth with boot prints across the face call to mind both drought and the concept of a "carbon footprint."
You've Got Brains
Maya Schonenberger
The diversity of the national parks is vast: high and low, wet and dry, cold and hot. Yet climate change is an oddly unifying concept. Warmer temperatures melt ice, but also cause tiny colorful plants that live inside coral animals to abandon their hosts, a phenomenon known as "bleaching."
By including Glacier National Park's high peaks and Biscayne National Park's brain corals into a single piece, the artist acknowledges both the differences and the commonalities evident in America's national parks.
______________________________
"Melting glaciers and bleached corals are both very visible realities to me, whether hiking and skiing in mountains or snorkeling the waters of a coral reef."
Maya Schonenberger


Maya Schonenberger, the exhibit's curator, said that "the artists' goal was to help open people's eyes to the beauty of nature that surrounds them, and share their concern for its loss."
Rising Tide: We Have Been Warned
Suzanne Evenson
Over 20% of America's National Parks can be characterized as "ocean and coastal." As the polar ice caps melt, sea levels rise worldwide. Warmer water also takes up more space than cold water, adding further to a rising sea level. Many of these coastal parks protect buildings like lighthouses, bridges, forts, homes and monuments…perhaps none of which are as iconic as the Statue of Liberty and Ellis Island. While most buildings will not be covered by water in our lifetimes, rising seas can weaken foundations and other aspects of infrastructure, threatening the existence of places that tell our story as a nation.
______________________________
'The Intergovernmental Panel on Climate Change estimates that the rise in sea levels could be as much as 3 feet by 2100. Florida's beautiful expansive coastline is especially vulnerable to the degree by degree rise in the earth's average temperature. In this scenario the houses in my neighborhood are nearly submerged. Unheeded warnings and calculations are barely visible beneath the murky water. The debris of inaction floats to the surface, birds watch from above and the setting sun is reflected in the rising tide."
Suzanne Evenson
We Left More Than Footprints
Mindy Marik
Increasing temperatures cause increased evaporation and drying. Drought impacts many national parks. At Bandelier National Monument in New Mexico, cattle grazing denuded the landscape of its native grassland vegetation and wide-spaced trees. Fire-sensitive piñon and juniper trees became established in their place. Without a protective grass cover, runoff from intense summer thunderstorms eroded the thin exposed soil surface. Enter a changing climate—one that brings drought conditions—and the stage is set for soil erosion, flash flooding and raging wildfire….all of which can have devastating impacts on archaeological sites that tell the story of 10,000 years of Ancestral Pueblo and Spanish history.
______________________________
"As a result of our wasteful use of freshwater, the environmental footprint we leave is having a devastating effect on our rivers and streams."
Mindy Marik
Carbon Fingerprint
BarbaraW. Watler
Meeting in Copenhagen in October, 2014, the Intergovernmental Panel on Climate Change (IPCC) stated that the "warming of the climate system is unequivocal, and since the 1950s, many of the observed changes are unprecedented over decades to millennia. The atmosphere and ocean have warmed, the amounts of snow and ice have diminished, and sea level has risen." They also stated that the human influence on the climate system is clear.
______________________________
"This quilt represents the carbon fingerprint of each person living on our planet. We are all contributing to global warming by excessive demands for more and more energy usage. Surely we can still live a good life while using smaller amounts of carbon-producing energies. Reduce current energy consumption and turn this black carbon fingerprint into the green print of healthy growth."
Barbara J. Watler
Denial
Gabriele DiTota
National Seashores like Assateague, Cape Cod and Point Reyes are among the most visited of all national parks. Beaches at these parks are often primary economic drivers for local communities as millions head to them each summer for fun in the sun. But rising sea levels and damage from increasingly strong storms threaten the infrastructure that makes beach visits possible. Maintaining roads and parking lots is time-consuming, stressful and very expensive.
______________________________
"Our rising oceans will change our shorelines and we need to move beyond the stage of denial. We have foolishly built homes at the water's edge and in flood plains: homes that are or will be in jeopardy. We build dikes to hold back the water, but Mother Nature is a powerful force and we are fighting a losing battle. What is needed is a sober look at how we are detrimentally affecting the environment and a commitment to change so that we can stall the progression of our melting icecaps and glaciers."
Gabriele DiTota
Pink Ladies
Melani K. Brewer
Pink lady slippers are endangered wildflowers in Great Smoky Mountains National Park. Shorter, warmer winters due to climate change disrupt mechanisms that tell plants when to bloom. When temperatures rise, the lady slippers bloom earlier. Changes in the amount of water available to them also affect blooming. Sometimes these changes stop blooms from forming at all.
______________________________
"At some point our climate will be too hot for these plants to survive. We must address climate change before it is too late."
Melani K. Brewer

Melani Brewer, one of the exhibiting artists, hopes that "our art will serve as a call to action to for viewers to take steps to protect our planet."

"Stories of how artists have played a crucial role in environmental protection are legion," said Gary Bremen, the park ranger who helped coordinate the exhibit. "The arts convey beauty, fragility and urgency in ways that touch the heart and soul, thus opening the mind as well." Gary went on to say "This exhibit was a career highlight for me. I learned so, so much...and not just about climate change. "Selling" an exhibit that did not exist yet was a major challenge."
The most recent assessment report of the Intergovernmental Panel on Climate Change (IPCC) states that the "warming of the climate system is unequivocal, and since the 1950s, many of the observed changes are unprecedented over decades to millennia. The atmosphere and ocean have warmed, the amounts of snow and ice have diminished, and sea level has risen." Many of these observed changes are especially apparent in America's national parks.
This is Glacier National Park Superintendent, Jeff Mow, giving a presentation on climate change impacts at the Hockaday Museum of Art in Kalispell. Most of the venues had some sort of climate science programming to go along with the exhibit, and that was another really cool aspect that linked science and art.
The show's national tour was made possible by the Climate Change Response Program, the South Florida National Parks Trust, Biscayne National Park, Les Bouquinistes Book Club and an anonymous donor.

More on the exhibit, including tour dates and venues, is available at www.NationalParkArtExhibit.com
Related References:
Contact for more details: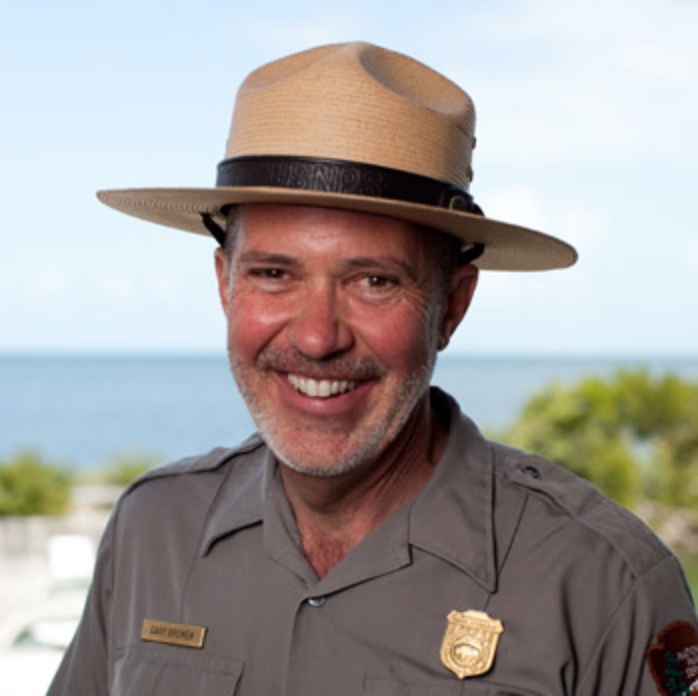 Gary A. Bremen
Park Ranger
Biscayne National Park
9700 SW 328 Street
Homestead, Florida 33033
305-230-1144, x 007
This email address is being protected from spambots. You need JavaScript enabled to view it.
Save