There's a new program in the wind, so to speak, for residents near San Francisco Bay. Using the National Landmark scow schooner Alma, several agencies (some of whom are alumni from Earth to Sky PW), are joining together to create an education experience for underserved youths from the local community. Through hands-on science activities, and a place-based, culturally relevant climate change curriculum being developed by the partners of bay.org, organizers hope to empower and facilitate a feeling of ownership among the Bayview-Hunters Point youth, and inspire them to band together and make positive environmental change. Their key idea, that Bayview-Hunters Point's past, present, and future depend on a diverse and healthy San Francisco Bay, is a point that should be easily apparent from the deck of the Alma.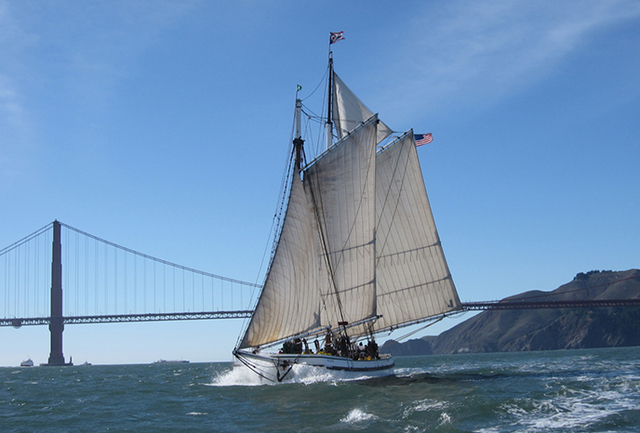 A Collaborative Project by San Francisco Maritime National Historical Park, Golden Gate Parks Conservancy, the EcoCenter at Heron's Head Park, and the Aquarium of the Bay (bay.org)
As a division of bay.org, the EcoCenter's mission is to protect, restore, and inspire conservation of San Francisco Bay and its watershed, from the Sierra to the sea. An essential niche for the communities of southeast San Francisco within the environmental education field, the EcoCenter fulfills this mission by serving as a model for green building, sustainable resource use, environmental justice, and experiential learning in one of the least-expected places in the City.
The following is a preliminary summary of what's being developed.
Program Objectives:
Students will acquire:
- Knowledge of BVHP's cultural roots in SF Bay
- Understanding of cultural use changes of SF Bay in BVHP
- Understanding of interplay between human-made environment and natural environment
- Exposure and hands-on experience with citizen science
- Understanding of effects of climate change on BVHP (mechanics of climate change and sea level rise)
- Understanding of solutions to climate change
- Access to sailing on their SF Bay in the People's Boat
Program Plan and Timeline:
Where:
- Alma to launch from Pier 40 and to sail to Pier 98 for educational activities.
When:
- Four weeks in a row in 2017: Thursdays April 27, May 4, May 11, and May 18 OR Fridays April 28, May 5, May 12, and May 19.
Who:
- Two age groups will conduct pilot programs:
1st group: 4th, 5th, and 6th grade (2 x program)
2nd group: high school and transitional aged youth (2 x program)
Content Outline:
Safety talk (captains, 5 min)
Explore/enjoy ship while sailing to Pier 98 (student free time, 25 min)
Alma history/BVHP maritime history (SFMNHP, 15 min)
Shipyard post WW II, superfund site, PG&E plant, and Heron's Head Park history (EC, 15 min)
Bayview Hunters Point: what now? Climate change, sea level rise, and magic window activities (EC/AOTB, 40 min)
Explore/enjoy ship while sailing back to Pier 40 (student free time, 25 min)
Final arrangements are still being approved and finalized by the many parties involved, and anticipation is growing. We'll keep you posted as the sailings begin departing, coming soon in Spring 2017.

All ashore that's going ashore!
Related References:
Contact for more details: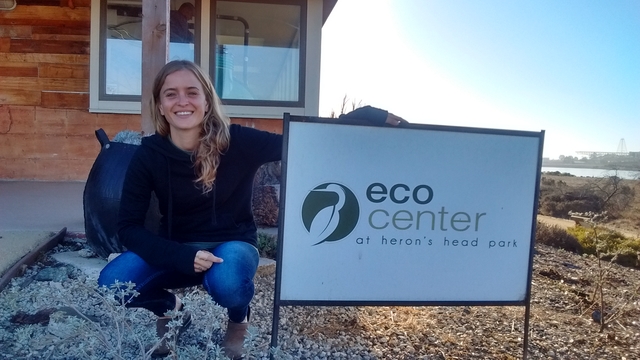 Pia Loft
Coordinator
EcoCenter at Heron's Head Park ¦ San Francisco
In the office: Tuesday - Saturday
This email address is being protected from spambots. You need JavaScript enabled to view it.
t: 415-839-4963
http://www.ecocenterhhp.org/
Save