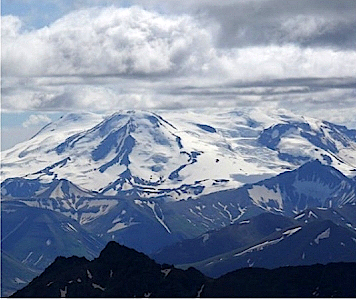 A Chapter from Katmai Employee Manual - an iBook
Here's a new product in use this season at Katmai National Park and Preserve in Alaska. ETS Alumni Mike Fitz, put together a new chapter in their iBook employee manual focusing on the science and best practices of communicating with Katmai visitors about climate change. There are links below to pdf and text versions of his chapter, and it may be something that could easily be used by other parks with similar staffing.
Here are some excerpts and graphic examples from this new publication.
"Climate change is one of the greatest challenges humanity faces in the 21st century. Climate change impacts the way national parks are used and managed and the ecosystems within them. It alters weather patterns and ocean temperatures, increases the risk of drought, can exacerbate habitat loss and extinction, causes sea level rise, and affects our ability to grow and access food across the globe."
"The scientific consensus on human-caused climate change is overwhelming: humans, primarily through the burning of fossil fuels like oil and coal, are forcing earth's climate to warm. There is no scientifically plausible alternative theory that explains the changes to Earth's climate we are experiencing today.
In this chapter, you'll find basic information about the physics of climate change, how it may impact Katmai's resources, visitor surveys regarding opinions on climate change, and techniques to help you interpret climate change."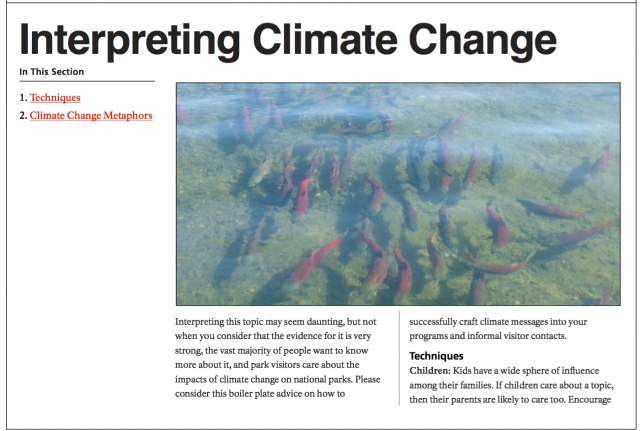 In addition to providing a basic and specific understanding of the actual climate impacts and their implications at the park, this training manual also offers many suggestions and ideas for clear communication about them.
"Consider weaving relevant climate change messages into your programs, social media posts, and roving contacts. With so much misunderstanding and misinformation about climate change and the potential consequences of no action, we have a duty to interpret this topic."
Climate's Heart: This explanatory metaphor enables people to think and talk more productively about the role of the ocean with the climate system. The metaphor is as follows:
"The oceans regulate the climate system the way your heart regulates the flow of blood throughout your body. The heart sustains the body by controlling the circulation of blood, making sure the right amount gets to all parts of the body — not too much and not too little. The oceans act as the climate's heart, sustaining the climate by controlling the circulation of things like heat and humidity."
Without too much effort, training materials like these might be applied to many parks and sites; Mike has given us a good start in doing so.
The Chapter - print version:
Climate_Change_for_Interpreters_at_Katmai_National_Park.pdf
- RTF version:
Climate_Change_for_Interpreters_at_Katmai_National_Park.rtf
- iBook Author format:
Climate_Change_for_Interpreters_at_Katmai_National_Park.iba
- iBooks format:
Climate_Change_for_Interpreters_at_Katmai_National_Park.ibooks

Contact for more details: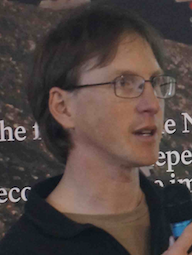 Mike Fitz,
(formerly) Visual Information Specialist/Media Ranger 

Katmai National Park and Preserve

current email: This email address is being protected from spambots. You need JavaScript enabled to view it.