During the morning of October 14th, 2023, an annular solar eclipse will be visible across the Western US. A white ring of Sun's surface will surround the silhouette of the shadowed Moon. A ring to unite all that observe it!
If you are fortunate enough to work along the path of annularity, expect larger numbers of visitors than is typical for the time of year. If you are outside of the path of annularity, you will be able to view a significant partial eclipse. The lines on the map show the percentage of partial eclipse visible in your location. This is the perfect opportunity to share your sites significance with eclipse viewers and foster the spirit of stewardship to the site. Engaging visitors in your eclipse outreach efforts will form memories to last a lifetime.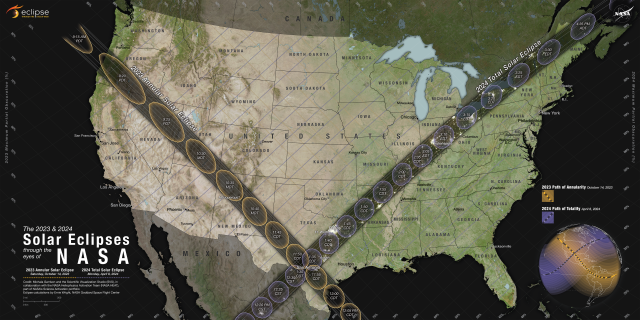 NASA Science Visualization Studio
What is an annular eclipse and how does it happen? Watch the video below to better understand this celestial event.
NASA's Goddard Space Flight Center
---
During the annular eclipse, it is crucial that you are always wearing solar glasses, using a solar filter, or a pinhole projector to view the Sun. At no point is the Sun completely covered by the Moon. By looking at any part of the annular eclipse without safety glasses or viewers, your eyes will be damaged by the sunlight.
Interpreting the Eclipses: Recorded Webinars
Check out our past Interpreting Eclipses webinars below. The series will focus on heliophysics, lunar science, and eclipse science, outreach tips, community engagement techniques, citizen science opportunities, where to find subject matter expert assistance whether you are on the path of annularity or off the path, as well as pathways of connection using interpretive techniques to connect visitors to the event happening at your site.